Featured Item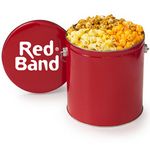 Gallon Popcorn Tins - Original Trio
Our exclusive Gourmet Popcorn Line features the most decadent and delicious popcorn you've ever tasted. Original Trio includes butter, caramel, and cheddar cheese popcorn. Choose from a variety of tin...
$15.20 - $15.65
Thank You for visiting Insight!
How do you look?
Promotional Products are powerful advertising tools - cost effective, thought provoking and versatile.
How do your promotional items and their imprint quality affect the message that you want to send? Capturing the right image or product to promote your organization can sometimes be a real adventure.
So when it's time to outfit your staff, come up with a new fund-raising idea, or enhance your direct-mail campaign, Insight is your source! Get the right products to deliver a consistent message on target, on time – every time.
Give us a call! 888.523.0123